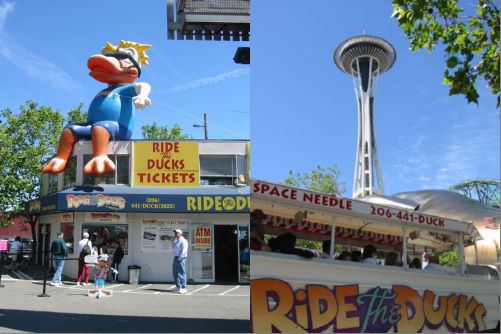 Well, Camp Phil(2)bin's reputation is taking a beating. I picked my buds up at the Holland America dockside Sunday. It never occurred to me what a logistical undertaking a cruise ship is. You actually need an appointment to be able to walk off the damn things.
I played it pretty straight, tourist-wise. I dragged them to the Pike Place Market, which they seemed not to have heard a lot about. They loved all the vendors that were giving free tastes of stuff, and dug the flying fish vendor.
Next, they agreed that the Duck ride would give them the best concentrated tour, and off we went to the Seattle Center, where the Ducks depart from. I prayed that no one would recognize me as we rolled through the streets.
We finished up at the Ballard locks, and the adjacent salmon ladder.
I've done my bit now for the low end of the tourist industry. Pray for the next brace of visitors who ring me up in all innocence and ask what to do in Seattle.