Last weekend was sort of blah. We were going to head for the Showbox Friday night to see one of our fave local bands, maktub, who have been in the studio recoding a new cd, but…we FUCKING FELL ASLEEP!!! I woke up at 9:30, which was still plenty of time to get downtown, get a drink in our hands and weasel our way onto the floor, but Mrs. Perils was flatlined. I think the word "hip" when applied to us from now on no longer means "lifestyle" - it means "replacement".
Saturday was sacrificed to Buckeye football. When television isn't a factor, the games from Ohio Stadium start at 12:30 Eastern, which obliges me to wobble downstairs, pull my espresso and have my butt on the couch by 9:30 Pacific for an experience that traditionally requires chemical alteration or sedation rather than stimulants. But Saturday, the Buckeyes vs Marshall kickoff was 3:30 Eastern, 12:30 Pacific, so I woke up at 10:00 and surfed between three games located within 200 miles of each other: Michigan at Notre Dame, UNLV at Wisconsin and Arizona State at Northwestern. Guess teams west of Lake Michigan are just getting their lattes and dumping out the roaches from the ashtrays in the dorm at that hour.
Turned out I had to buy the OSU game from Comcast and ESPN Game Plan, as the game wasn't carried locally. While it seems pricey at $20, it's a hella lot cheaper than trying to scalp a ticket into Ohio Stadium. Still, at that price you expect to get a decent picture. No such luck Saturday, however, as the feed from ESPN was balky and the picture kept pixellating into Impressionistic montages that were compelling as found art, but ultimately unsatisfying as a representation of RED-BLOODED AMERICAN FOOTBALL, DAMMIT!!! A call to Comcast, explaining in measured and affected west-coast-cool locution that MY GOD-DAMN FOOTBALL GAME WAS BLEEDING AWAY INTO THEIR ELECTRON GRAVEYARD AND THEY'D BETTER FIX IT BEFORE I SENT 10,000 VOLTS BACK UP THEIR DAMN CABLE TO SINGE WHATEVER HAIRS WERE LEFT ON THEIR BIKINI-WAXED BUTTS elicited a surprisingly accommodating response, giving me full credit for the game and scheduling a technician visit for Monday. I sat back down on the couch and continued to watch the ugly electronic trainwreck on my screen, not thinking it was much more of a bargain for free. I was able, evenutally, to see 80 - 90 % of the plays, including the 54-yard field goal with 2 seconds left that won the game for OSU, so I was the picture of expansive good humor for the rest of the evening.
By Sunday, it was really too late to mount any major outdoor expeditions. When Seattle people feel guilty about lazing around the house instead of being out hiking, biking or climbing, they don't hit I-90 and head for the Cascades, they go to REI and shop for gear. That's what we did Sunday. As you may remember, I had to borrow a tent from friends to take with me on my Baja kayak trip last December, friends who forgot to include the tent poles in the bag…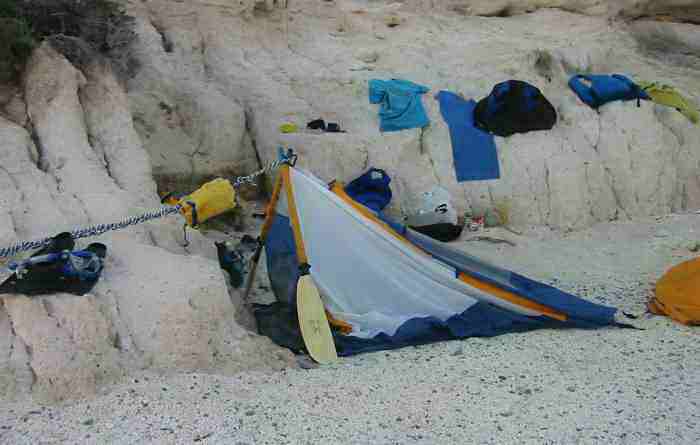 …friends who will never pack a parachute for me. So, I've had it in mind to buy a tent at some point, and we took this opportunity to pick out a nice little 2-person tent. We drove home, took it out of the trunk, put it in the closet and felt for all the world that we'd had a wilderness experience.