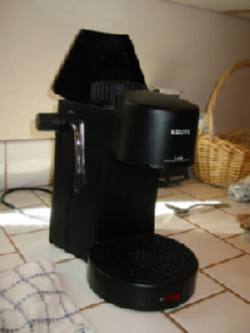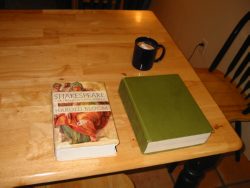 I can't believe our week here has gone by so fast, but here we are on our last day. We saw our last plays yesterday, and have only to check out of our lodgings and get to our plane in Medford this evening. I really didn't buy anything here, so packing shouldn't be any more of a chore than it was coming down: the trick is to accommodate the weighty "luxury" items I tend to bring on this trip - my complete Shakespeare, Harold Bloom's Invention of the Human and, this time, my Krups espresso machine.
All three have seen significant use, so I don't regret hauling any of them (especially since I slipped the green Shakespeare into my mom's suitcase when she wasn't looking.
Our theatre experiences were great this year. Since I purchase a membership in the Festival, I get to participate in the ticket presale that happens in the fall preceding the next year's season. Our seats just rocked this year, most being in the first or second rows. It makes a big difference when your experience is almost that of a cast member, rather than at a remote distance struggling to hear all the lines.
My mom's really enjoyed the plays as well, and has been sharing some family anecdotes along the way. One amusing one involved when she was in high school and she was one of the witches in a Macbeth production. Thereafter, an alley where she would meet her friends before school each day was dubbed "the heath". Before you ask, there were no stories about me worth relating.