My Ohio State Marching Band Alumni has a "regular band", a year-round group that plays concerts, parades, funerals, weddings and other special Buckeye occasions.  Of course, you have to live within driving distance of Columbus to participate, which definitely rules me ineligible as long as a private jet is beyond my means.
Last winter, however, I received a notification from them that they would be playing a parade and concert for the bicentennial of my hometown, Perrysburg, Ohio, and it got me thinking.
I moved away from Perrysburg in 1974 but, because my parents and grandparents lived out their lives there and I visited fairly frequently, there was always a sense that it was home (despite the fact that the bulk of my life has been lived in Seattle).  Once we moved my Mom out of our childhood home in 2013, however, nothing remained with enough gravitational pull to justify a destination-based trip back there..until the coalescence of a Bicentennial, TBDBITL (the OSU Alumni Band) and two brothers who apparently were also looking for a reason to hit the Burg once more.  My youngest brother also played in the OSU band, the OSU people responded affirmatively to our request to join them for the festivities, and our trip was on.
It seemed strange booking a hotel room in the town where I'd always just crashed at my parents' place, especially since the hotel was less than a mile's walk from there.  We arrived on a Thursday, walked around town a bit and dined at a pretty decent restaurant in "downtown" Perrysburg.
Although eclipsed by nearby Toledo in size, Perrysburg has always been an independent municipality and never a soulless suburb.  Its "downtown" stretch of independent retailers, however, suffered greatly over the last 2 decades, as mega-malls and big box retailers sucked away their customer base.  On this trip, for the first time in a long while, I observed a renaissance along the main drag, Louisiana Avenue.  For many of the venues, we could hardly walk through the front door.  Although inconvenienced, I was happy for them.
(Click to enlarge)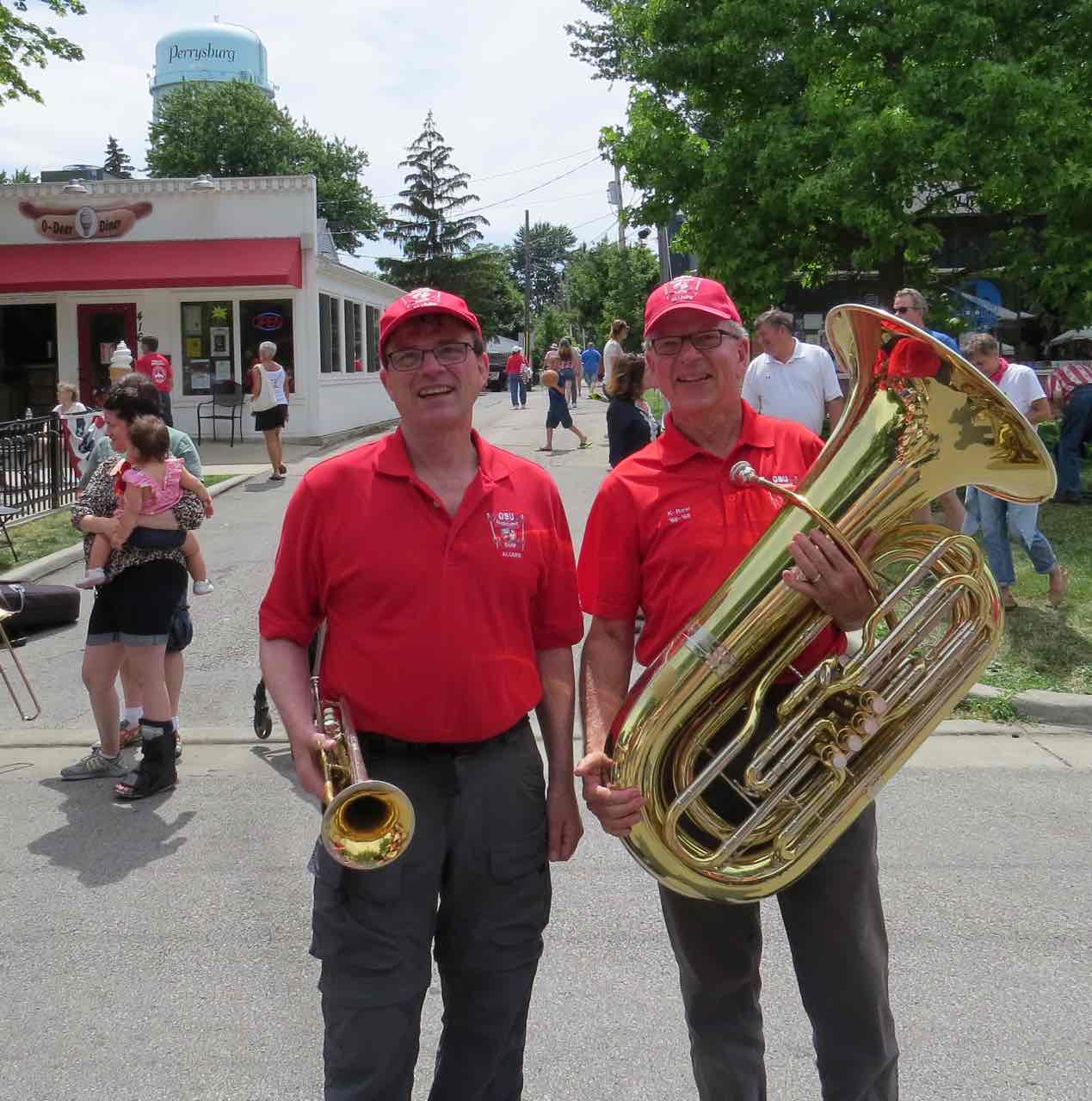 Our parade and concert was Saturday.  First would be the parade, and then the concert later in the afternoon.  The OSU band staged for the parade on the grounds of Elm Street Elementary, a block from (wife) Betsy's childhood home, where my high school marching band used to rehearse on foggy fall mornings, hard by the building where my mother-in-law taught 3rd grade for 20 years.  As we waited to enter the parade, I spoke with an old friend, an OSUMB sousaphone player from my high school band who had lived up the street from me and had spurred me to a running regime in order to try out for the OSU band.  A running regime that I would carry on for 40 years.

The parade up the main street of town was so reminiscent of the Memorial Day parades our high school band played in.  Later, I saw our concert was setting up in view of the building where I attended Junior High, and right in front of the (long gone) Perry Dairy Bar, where I used to sneak off-campus for hamburger & french fry lunches.
I started to feel like I was in an alternate reality, one where I had never left town, where I recognized everyone on the street and knew their dogs' names.  Could I envision myself satisfied with playing little bandbox engagements instead of the thrill of massive, raucous, bawdy urban Pride Parades in front of half a million screaming fans?  I gazed at the audience that was assembling, nibbling on picnic lunches and hailing neighbors, and then I espied my high school band director (Judy Justus) in the stands.  I left my seat in the trumpet section, ran over and gave her a hug.  The concert began, time slowed down and for a while I could imagine myself…content.
During the concert, they introduced folks in the band who had Perrysburg connections, including me.  After the concert, several people I'd known in high school, people I hadn't seen in 50 years, came up and introduced themselves, and that only added to the feeling of alternate reality.
After the concert, my brothers, their wives and I paid a visit to a couple who live next door to our childhood home.  I've always enjoyed them and loved them for the support they provided for my parents in later years, and we had a good time catching up.  But our ulterior motive was to see what the new owners had done to our place.  Our friend/neighbor contacted the new owners, and we were awarded a tour of the extensively, but sensitively, remodeled residence.
My parents built the house and we moved in in 1961, signified by a Lincoln 1961 penny enmeshed in the concrete of our front sidewalk.  It was eerie to walk through the place.  They had blown out a back wall and built a modern kitchen and changed the interior floor plan in ways that our mom had often wished for.  Each time Mom would develop a plan, however, our dad would shake his head and say, "We can't do that, that's a bearing wall."  The "bearing wall" cupidity we observed would have boggled our mom's mind, in addition to pantsing our dad.  As we left, we saw that the front sidewalk had been rebuilt.  With a bit of trepidation, we walked to the end and saw..two pennies embedded in the new concrete: our original 1961 coin, and their 2016.  They will forever be our heroes.
(Click to enlarge)
As night fell, we headed west on River Road to visit old friends who had made their lives in Perrysburg.  As we entered their place, their music system was blaring OSU marching band songs that turned out to be on a record that I was playing on in 1971.  This never happens to me in Seattle.
We caught up with a lot of history, marveled at our friend's opulent riverside digs, and I let the experience of a warm, fecund midwestern summer night soak in.  We said our good-nights in the cricket-and-tree-frog cacophony, with the river ambling picturesquely by, and it was strangely seductive.
But my morning flight from Detroit to Seattle emerged insistently on my phone, and that same raspy lozenge of - not discontent, exactly, but more of an Urge For Going - that spurred me west in 1974 hastened me inexorably to the airport, and on to my real home at the edge of the continent.