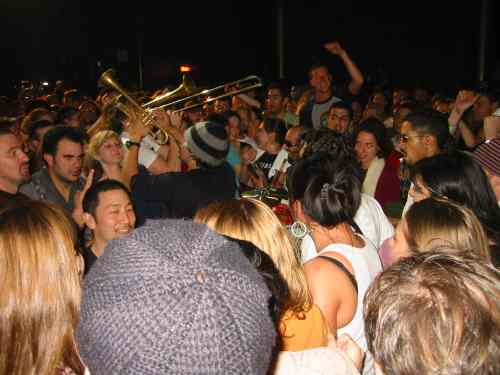 We kept our date at the Showbox last night and saw Ozomatli. The venue was packed and kinetic, and the show was fast-paced and superbly played - they just kept bringin' it. As I mentioned below, their latest album is called Street Signs, and ranges from Salsa and samba to ska, hip-hop and has some middle-eastern influences as well.
They played a lot of numbers from the album, mixed in with some old favorites. One really interesting number featured a clarinet solo by the sax player. My wife asked me what he was playing, and at first I said it was a soprano sax, but it sounded more like a bass clarinet, except it was straight. It was indeed a clarinet, but it appeared he had an extension at the end sort of like a trumpet mute that produced the bass clarinet sound. Once he removed it, it sounded like a regular clarinet. I've never seen that device before.
At a certain point, after playing Saturday Night, a sort of musical party invitation, the band just partied down. My wife said, "This is turning into a drunken Mexican wedding!". Almost as soon as she said that, the band left the stage and started wandering around the crowd (see picture), stopping here and there to play, then moving on. I turned to the stage and saw the hands breaking down the set, and sure enough the band eventually just played its way out the door and the show was over. Great time, great music - see them if you get the chance.