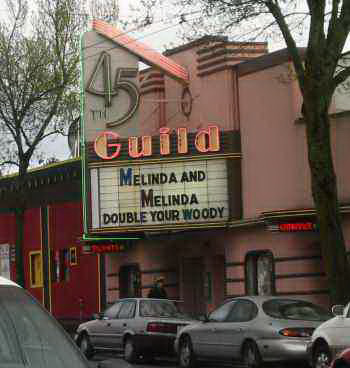 Great to be home again and looking at being here for 2 or 3 weeks. Work will still be taking big chomps out of my ass, as my Arizona client is having its audit this week and I'll be busy shoveling schedules at them. But, the audit firm is here in Seattle and I can shovel from the comfort of my home office, for the most part.
I tore myself away from the end of the MSU-Kentucky game today and Mrs. Perils and I took a walk down to Gasworks Park (my banner picture of downtown Seattle above is taken from Gasworks Park). It was nice to be strolling through my 'hood again. Looks like I missed the chance to see Million Dollar Baby at our local theater - the new Woody Allen seems to have usurped it. Had to get a snap of the sign for your entertainment.
It was a rainy, sort of blustery Easter here, but it's still feeling unmistakeably springlike. The rains held off throughout our entire walk. We had left the basketball game with about 1:30 left and Michigan State up by 6. As we walked in over an hour later, my MIL exclaimed that the game had just ended, after 2 overtimes. I asked who won, and she hesitated a bit before saying "kentucky". I didn't discover that MSU had actually won until a couple hours later.
I was taken with the twist in the trunk of the tree below.