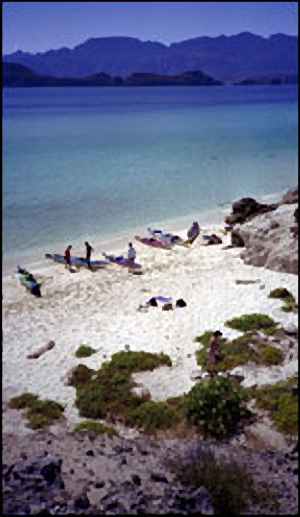 I know I wasn't supposed to shop on Friday, and I was strongly drawn to participate in Buy Nothing Day, but the fact is that, as usual, I was up against the wall preparing for a trip, and I spent a lot of Friday at REI throwing stuff into a cart getting ready for MY KAYAK TRIP TO BAJA ON TUESDAY!!!!!!!
I've never been to Mexico (my only forays out of the country have been isolated sorties into Canada), and my only knowledge of it comes from, in order of importance, the Marty Robbins song "Laredo", the movie "Three Amigos", and "All the Pretty Horses". The Cormac McCarthy novel admittedly conveys a lot more authentic information, but my new rule is I get to throw the most unpleasant one out, and that's the one I choose.
My trip is being led by a guy I paddled with earlier this year, who has done this a few times before. We had an organizational meeting Saturday, where I met a couple other participants (there will be 5 of us), and learned to my giddy delight that two of them are doctors. They were rummaging around my friend's first aid kit, quarantining out-of-date medicines and making plans to include stuff that kayakers who haven't been to medical school wouldn't have in their first aid kits, like suturing material. Unless they're in the black-market organ trade, I'm apparently in good hands.
My research on the internet had led me to blithely assume that I could waltz across the border with a driver's license and a birth certificate, so I didn't take the trouble to obtain a passport. At our meeting, all expressed serious concern that I hadn't done so, pointing out that the sites I was reading were probably pre-9/11 information. They posited that I would be able to enter Mexico without much trouble, but that re-entering the United States might pose a problem of the Cormac McCarthy variety. Matt Damon was a prettier prisoner than I would be, but still…. They pointed out that there was a U. S. government branch downtown that, if you were within 14 days of a trip out of the country, would allow you to show up in person and obtain a passport, providing that you had your pictures, birth certificate, etc, and were willing to pay the extra $60 for "expedited" service. So, tomorrow morning I'm heading downtown to see if I can pry a passport out of the bureaucracy.
I'll keep ya posted. I'm taking my laptop with me, but since we'll be camping for several days, and I have no idea whether I can hook up to the internet, I may be out of touch for a week or so.