I'm headed to Columbus next weekend to commune with brothers and mother, and to perform once again with my Ohio State marching band alumni. So, as I did last year, I've started (today) heading to the basement with my trumpet to help the spiders practice for Armageddon. Here's more in-depth coverage from my haj to football mecca last year.
This weekend, then, is my last shot at high summer in Seattle. As I drove home from a client's yesterday, the clouds had burned off and it was starting to heat up a little, and the water looked extremely inviting from the bridges I drove over. I threw my kayak on the car and headed downhill to Lake Union for a little waterborne outing.
Often, we're standing on the top of the Gasworks Park Hill looking at the water. Last night, I was on the water looking up. At the top, a couple was gittin' hitched - while further down the hill, some were already getting on to the honeymoon.
I thought I was keeping a pretty smart pace until these guys passed me like an unlimited hydroplane. Note the wake they're pushing off their bow.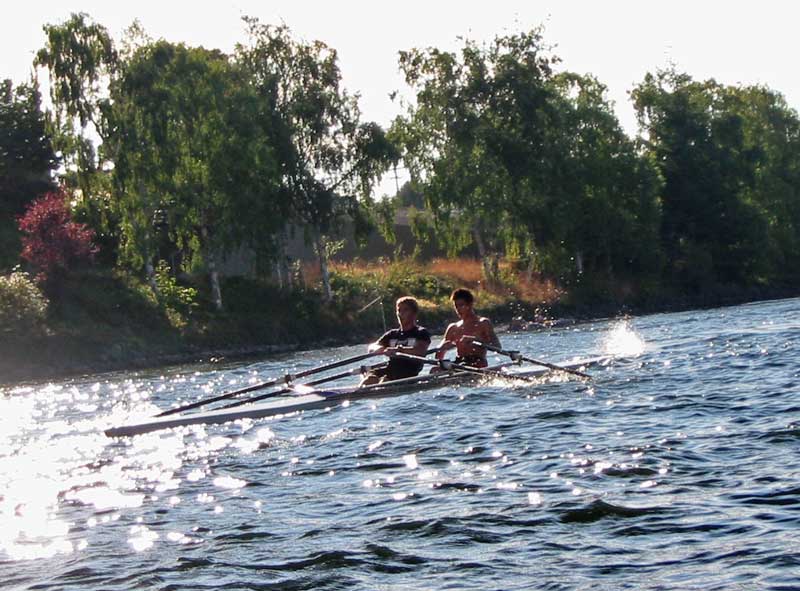 I paddled up to the Ballard locks and turned around. On the way back, I encountered this odd craft, apparently a one-man submarine. Or maybe a glubmarine. I asked the guy about the boat - he said it was built in England in the 80s, and it's the only one. You can see, in the third picture, that the engine has started and water is shooting out of the bow. There was a guy down inside the boat. I've got enough troubles of my own - I didn't stay around to watch it submerge. I just kept thinking about the Hunley, the Civil War submarine located and salvaged in Charleston a few years ago.
I'm always tempted to deride these goofy amphibious duck craft that tourists lurch around town it, but they always seem to be having the time of their lives, so what the hell? I briefly considered offering to dive for coins and other shiny baubles, but they - including the driver - were actually engaged in some smack talk with the sailboat.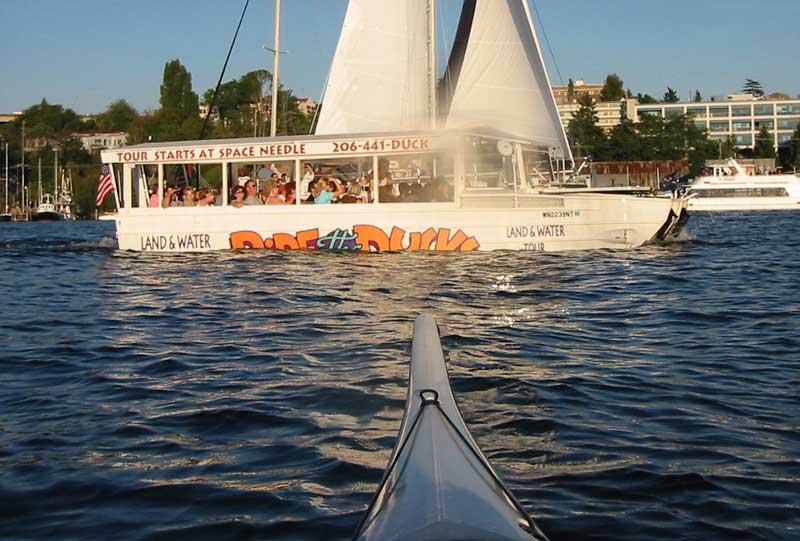 Off this afternoon to a picnic for 826 Seattle volunteers.