It's turned wicked cold here, and yesterday morning the door lock on the car I usually use was frozen in a way that would not allow the key to fit in. The manly thing to do would have been to return to the house, draw a glass of hot water from the tap and use it to loosen up the lock. That question was answered, however, when I instead slunk over to our other car that Mrs. Perils most often uses, which opened without resistance, scraped the frost off the windows and made my escape. Hey, I was running late!
Yesterday and today, the weather folk have been teasing us with "chance of snow" language. Since almost any snow in Seattle basically brings the place to a standstill (the city has almost no snow removal equipment, and the hills make it all but impossible for anything less than a Hummer to navigate), people where I've been working have one eye out the window like grade school kids, Jonesing for a snow day. I don't think it's gonna happen.
Sunday was chilly but mostly clear and sunny, and I dragged myself out for a paddle on Lake Union and up the ship canal, not enought time for anything fancy on salt water.
Someone had a festive Saturday night along the ship canal, and elegant as well with a bottle of Veuve Clicquot.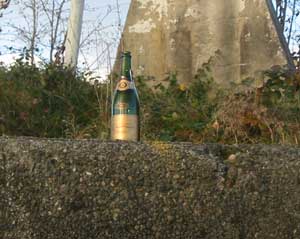 I try to collect photos of clever or goofy boat names, but I haven't named any of my kayaks yet. This one below inspired me to consider "Conchubine". Waddaya think?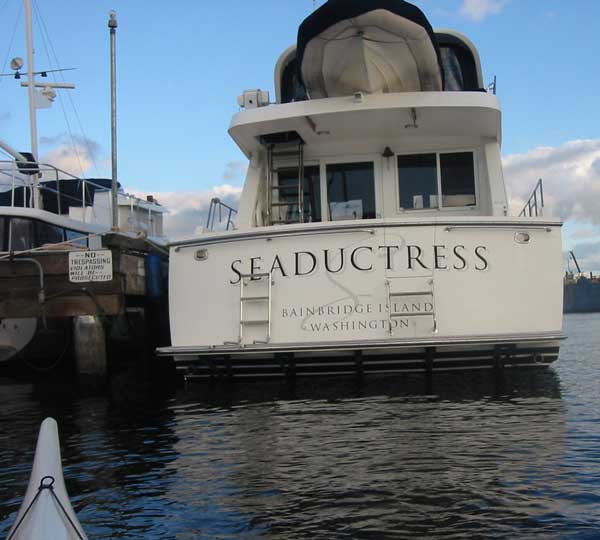 One last weather-related thought: I really need to replace that banner up there and its languid warmth with something appropriately drippy and gloomy. Shouldn't take long.