Fully decompressed now from my two weeks on the road, and today (Saturday) slaps me upside the head with some true spring weather.  Son and girlfriend took Mrs. Perils off to Index for a Mother's Day rock-climb, and I'm mellowing in a coffeehouse after mowing the lawn.
As mentioned previously, I followed my monthly Milwaukee gig with a trip to Atlanta to attend the Microsoft Convergence 2010 conference.  One of my clients uses one of MSFT's ERP packages (Navision), and we're about to undergo a significant upgrade, so a handful of us attended in order to learn what changes were afoot and to perhaps apprehend additional ways we could use the software.  Since my youngest brother lives in a northern suburb of Atlanta, I bunked out at his house for the 4-day conference and rode the MARTA rail system right up to the doors of the Georgia World Convention Center.
The first day, I arrived and thought I could just saunter into the first session.  What I didn't realize was that 8500 people were attending the conference.  Registration reminded me of a huge Customs operation, perhaps what it might have been like to land at Ellis Island.  The whole thing was very well-done, though - everything ran like Swiss trains.  It was lavishly catered, at least in the context of other things like this I've attended.  The first night, there was a reception with all kinds of performers, and about 15 different food a beverage kiosks scattered around a massive hall: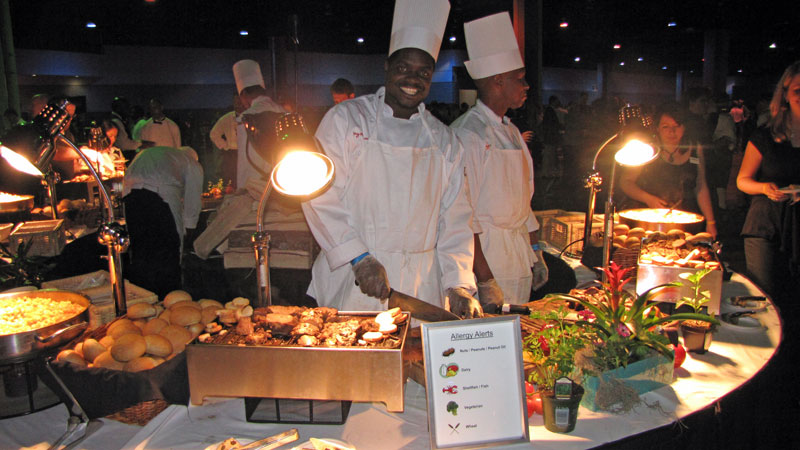 (Shaquille O'Neal clone)
In another area, there were several hundred networked PCs set up so attendees could run tutorials and demos on their particular software package (4 ERP systems were represented, plus several other productivity tools like CRM):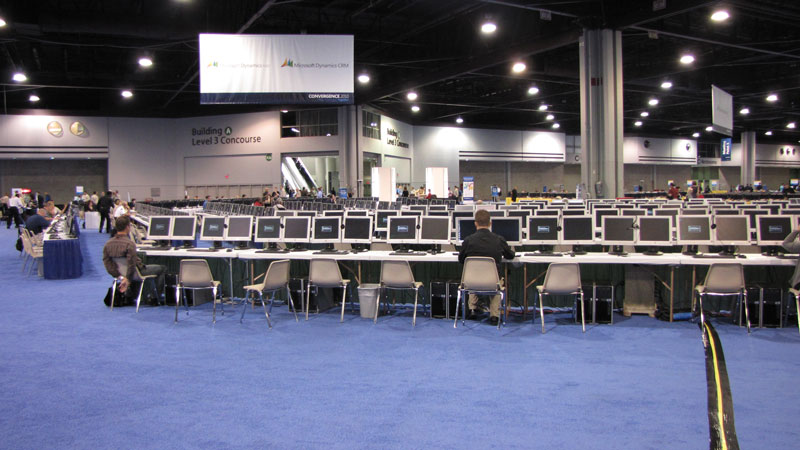 One thing that was kind of hilarious was hearing the session moderators repeatedly say, "if you Goo…uh…BING it…"
On the Tuesday evening that the conference ended, my brother & sister-in-law had tickets to a Jimmy Buffett concert at an outdoor venue south of town.  I rode the train down to meet them in the parking lot, little realizing what an event the pre-concert tailgate is for a Buffett concert (it was my first, but they've been Parrotheads for years, and they love going diving in the Florida Keys).  You could walk around the parking lot and encounter various tableaux, almost like dioramas, often with a bowl of jello shooters set out like Halloween candy.  The guys below had built a tiki bar out of bamboo especially for the concert.  The guy sitting behind the bar sported a pair of false (I assume/hope) buttocks that he invited all & sundry to autograph (Click any photo to enlarge):
Eventually, there was actually a concert: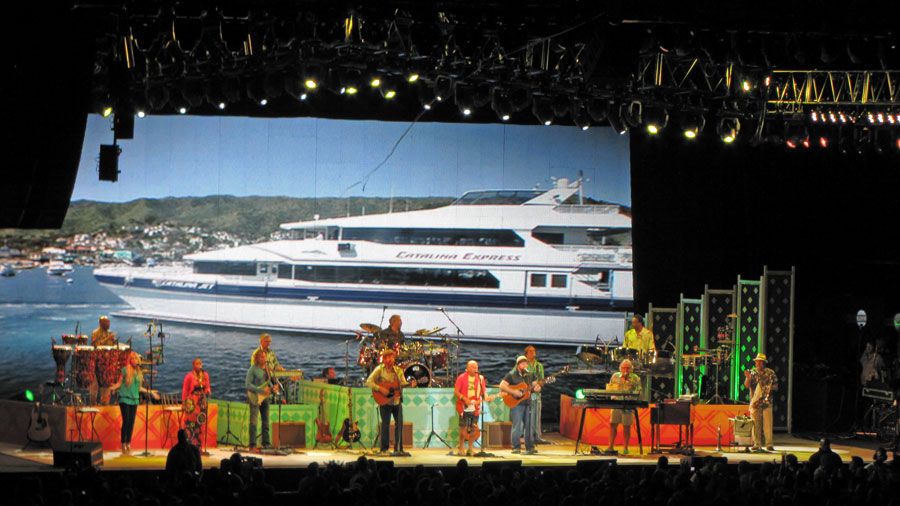 Mrs. Perils flew in on Wednesday and saw my brother's place for the first time.  Then Thursday, it was off to Myrtle Beach for our annual spring family reunion.  I'm not sure how long we've been doing this spring meeting.  It started back in the mid-90s when my parents would golf their way south from Toledo and end up at my middle brother's place near Charleston, SC.  They found this resort called Litchfield By The Sea on Pawley's Island, just south of Myrtle Beach, and started making it a destination.  I'm not sure when I began joining them, but it must have been '98 or '99, because I'm sure I tagged it onto a business trip for the company I was working for then.
It's a really nice time to be there - it's usually 65 - 70 degrees, which the locals find too chilly to draw them to the beach, so despite the colossal condo buildings there, we have a lot of beach to ourselves.  Attendees this year were all 3 of us brothers and our wives, my mom, my niece and her squeeze.  We walked a lot, rented bikes, ate, drank and generally enjoyed ourselves (and each other):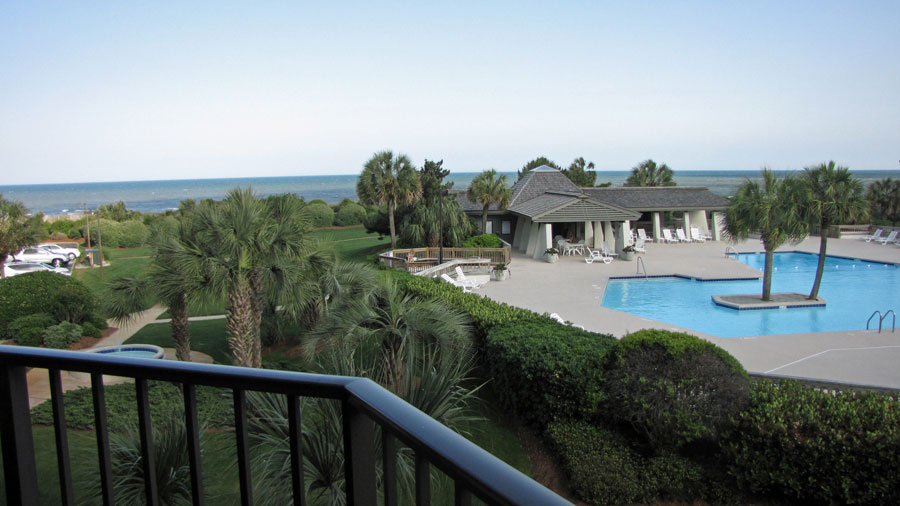 View from our room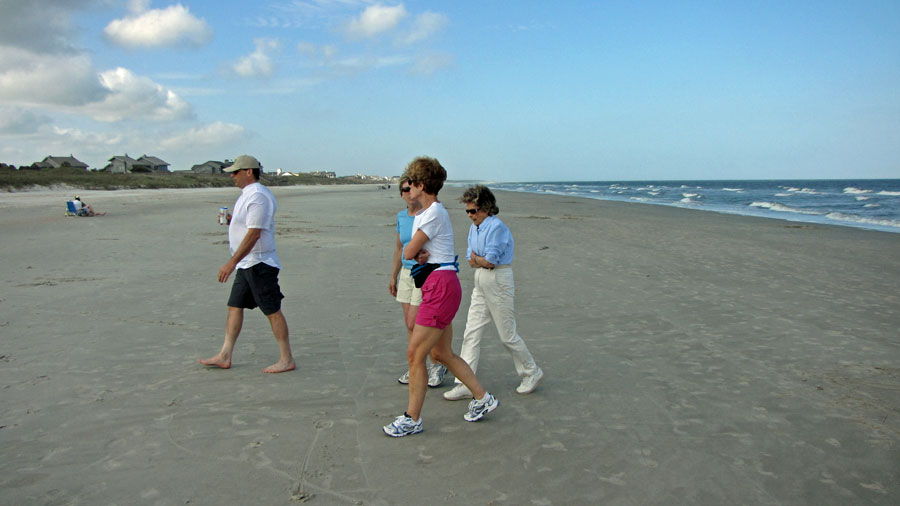 My bro, SIL and Mom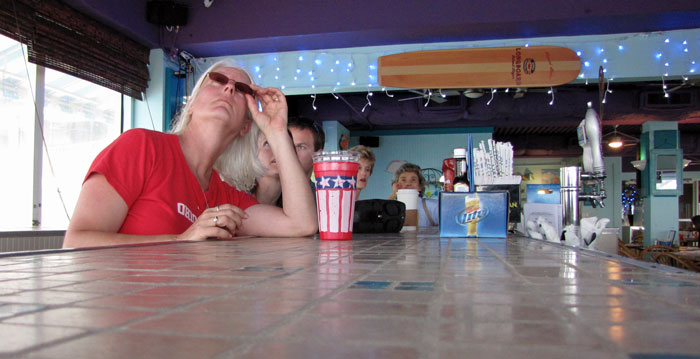 Watching the Kentucky Derby at a seaside bar
Mrs. Perils saddling up (in blue, center)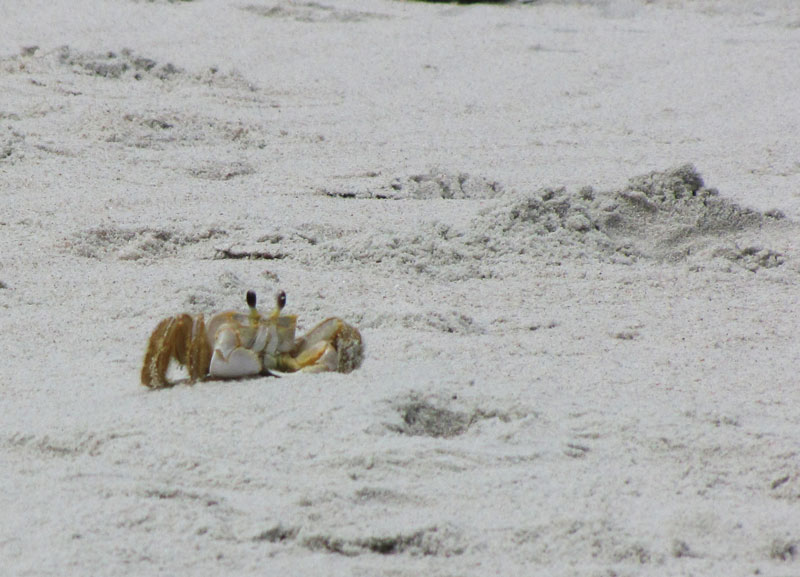 Probably happy to see our plane leave.