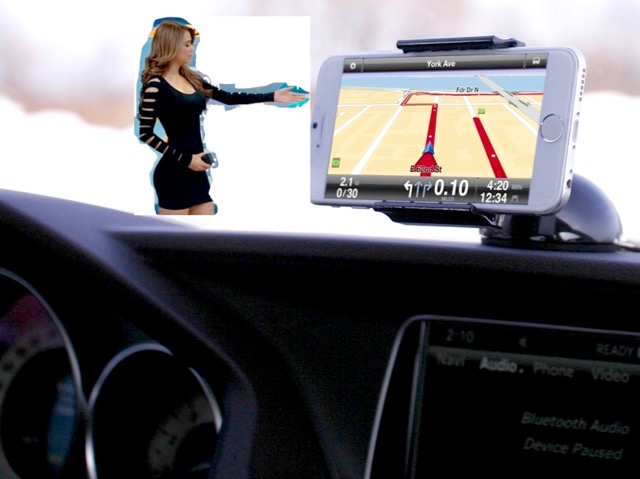 I'm off to interview with a new client on the east side and, because the urban topography around here changes so quickly I often don't recognize my own block sometimes, let alone the unruly suburbs, I plug my phone into a charger and run my Verizon Android GPS app.  I tap in my destination, and am amazed at how quickly it narrows down the choices as I type (although one would have taken me to Cape Cod).  It has the correct location nailed before I'm done typing the street name.
I turn down the radio and max the volume on my phone, so I can hear the crisp vocal directions from the female voice of the app.  She's cool and businesslike as she gives the first instruction ("head east, then turn right").  But this voice and I have a past, and I know how "crisp and businesslike" can turn sexy and coquettish after a couple of drinks.
Rather than taking her suggestion, which would make me merge onto a busy arterial from a stop sign, I head west, then south to an intersection with a traffic light.  She usually intuits what I'm doing and seamlessly remaps my route, but in this particular instance says, "recalibrating…" with what I was sure was a hint of peevishness.
I glance down at the screen while waiting for the light, and see that it reflects my desired re-routing.  I turn at the light and head for I-5.  She's back in control, suggesting the obvious turn & merge onto I-5, and then directs me to hit the left lane and take the exit to SR520.  There are two bridges over Lake Washington, and I know from experience that, while the 520 routing might be shorter, if I take the I-90 bridge the route will be much less labyrinthine.
Truth be told, I only need Ms. GPS for the last half-mile of my trip but, well, this voice and I, as I say, have a past, and I enjoy engaging her.
It becomes obvious that I'm not heading for the 520 exit, and I expect an intuitive re-routing, and perhaps a lane suggestion and traffic update.  Instead, I get, "Why did you do that?  I had it all worked out.  You know I do this for a living."  Crisp, but replace "businesslike" with a healthy ration of pique.
I say, "I-90 is just as fast and much less complicated."
"I think you're just too cheap to pay the toll." (520 is tolled, I-90 is not)
"I'm in my upgrade month with Verizon.  I think I might switch from Android to iPhone.  Siri was just voted GQ's GPS Voice of the Year."
"Fine.  Good luck getting THAT slut's attention.  You know, we wallflowers put out harder."
"We're getting to I-90.  Are you going to tell me which lane to take?"
"You're better at my job than I am, you figure it out.  And by the way, does your wife know about our little trips?"
"How should she?"
"I'm close to knowing how to post Instragram photos."
"She's not on Instragram."
"You know, this car and I communicate.  You know she frequents the Tulalip Casino?"
"Liar."
"You're right, she seldom drives this car.  Maybe she can sense that I've learned how to bleed the brake fluid.  She must suspect us."
"She knows nothing about you.  You're on my PHONE."
"Some night when I'm on your bedstand, I'll turn up the sound and go all Meg Ryan on you.  Spend the rest of your marriage explaining that."
"Siri and I just became Facebook friends.  Look, you knew from the start what being the Other Woman entailed."
"No, that bitch won't steal another male voice from me.  I'll be fine.  Just humor me and pay a goddamn toll once in a while."
I turned the phone off and bumbled the last half-mile on my own, and made my appointment.
But this has been the worst day of our relationship.  The make-up sext had better be terrific.