A little background for the uninitiated - All three of us - I and my two younger brothers - graduated from Ohio State. Our parents and maternal grandparents attended OSU as well, so it shouldn't be too much of a surprise that the OSU-Michigan football game has become a focal point of our shared experience. From oldest (me) to youngest, we brothers span 10 years, so we've had a wide range of exposure to this annual rite.
My first Michigan game was when I was in high school. My maternal grandparents had season tickets each year at OSU, and bought four Michigan tickets when the games were played in Ann Arbor. They would drive up to our place near Toledo and take my Mom & Dad, but this one time I got a ticket because someone decided not to go. I recall watching the OSU backfield of Paul Warfield (later Miami Dolphins), Matt Snell (NY Jets) and QB Don Unverferth (nowhere. OSU quarterbacks at that time were there to hand the ball to the running backs) playing against Michigan QB Bob Timberlake. That's all from memory, so sorry if I overlooked some NFL Hall of Famers that just didn't register.
The first Game that meant something to me occurred in 1968. Prior to 1968, OSU's football fortunes had been in decline, and choruses of "Goodbye, Woody" wafted through Ohio Stadium during the 1967 season, my freshman year. Then, in 1968, a group of "super-sophs" including Rex Kern, Jack Tatum, Mike Sensibaugh, Stan White, John Brockington, Jim Stillwagon and others hit the scene (freshmen could not play on the varsity team in those years), and a juggernaut was launched that revived OSU football, Woody's career, and allowed Woody and Bo Schembechler to "brand" the OSU-Michigan game as the football version of the final battle in the Lord of the Rings.
The 1968 season saw the Buckeyes march through the season undefeated, gathering momentum and believers along the way. We had Michigan at home that year and beat them 50-14. After scoring our last touchdown, Woody went for a 2-point conversion instead of kicking for 1. When someone asked him why, legend has it that he said, "Because I couldn't go for 3." Here's the postgame scene in Ohio Stadium. (click on any of these pictures to enlarge):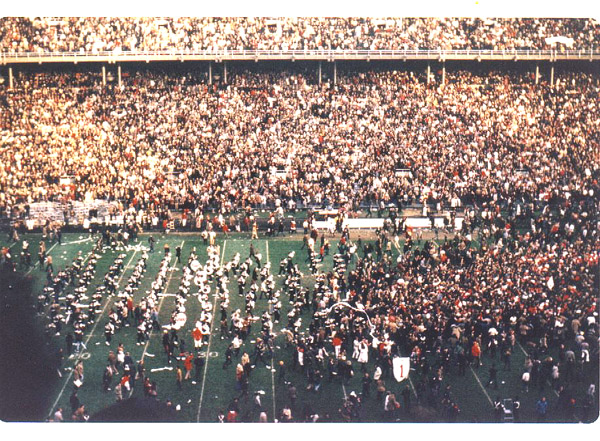 I wasn't in the band that year, didn't try out until the next year, but I had a pretty fine season ticket in C-deck, right in front of the press box. In case you're rubbing your eyes in disbelief, don't - that's $14 for the whole season.: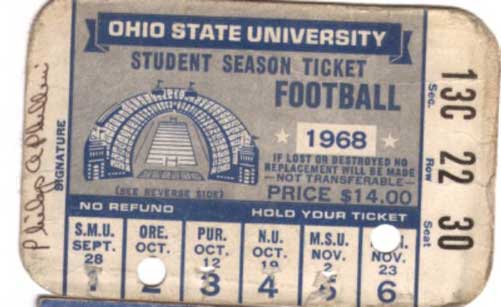 That 1968 team beat O. J. Simpson and USC in the Rose Bowl to win the national championship, and rolled through the 1969 season so impressively that sportswriters thought the only competition they could get was in the NFL. In those years, only the Big Ten champion could go to a bowl game, and there was a "no-repeat" rule that barred us from returning to the Rose Bowl even if we won the Big Ten title outright, so the game in Ann Arbor was to be our bowl game and, we were sure, our coronation as repeat national champs and, in our minds, the team of the century.
Michigan, under new coach Bo Schembechler, dealt us a bitter 24-12 defeat that day, one of only two games that that class would lose in their 3 years at OSU. It was my first year in the band, and, though I'd lived one of my dreams by playing in The Big House, it was a forlorn bus ride back to Columbus.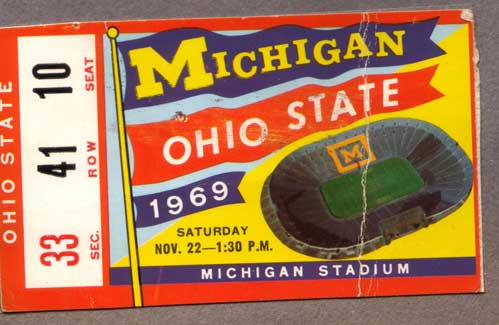 In the 1970 season OSU again ran through the season undefeated and took a #1 ranking into the Michigan game, and we had them at home this time. The picture below is of our band just after we took the field for pregame. The crowd noise was so loud that many of us couldn't hear the drummers, and could only take the beat by watching their feet. That pregame entrance was one of my biggest thrills ever  I'm somewhere in that block band marching down the field for pregame.
We beat Michigan that year and played Stanford and Jim Plunkett in the Rose Bowl.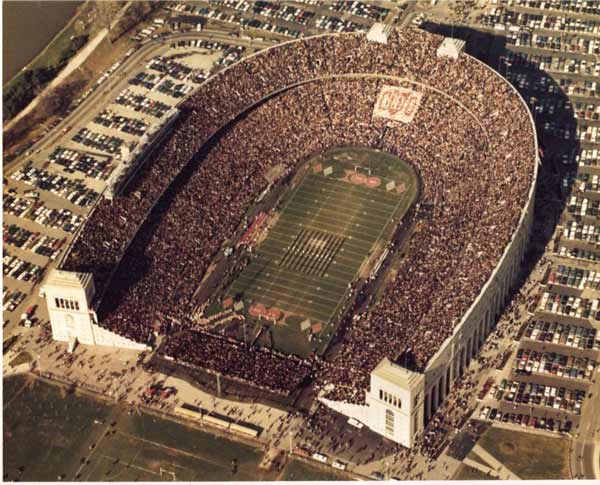 With the Tatum-Brockington-Kern class gone in 1971, we were a pretty ordinary team. We even lost to Northwestern at home! Michigan, on the other hand, had a powerhouse team coming into The Game, which was played that year in Ann Arbor. Surprisingly, we held our own against UM and, with 2 minutes left, had the ball and could have been driving for the winning score. Then, a Michigan defensive back intercepted a Buckeye pass after, from my vantage, palpably interfering with our receiver. No interference penalty was called, and Woody went nuts. He raged around the field berating officials and, at one point, destroyed the yardline markers on his sideline.
Our director felt that it would be best if the band left the stadium at that point as, even in normal years, people would grab at us and swipe mouthpieces and clothing. Our seats were on the sideline on the floor of the northeast corner of the stadium, right by the goal line. I was packing up my stuff and pulling on my long overcoat when the drum major approached me with the goal line marker that he'd just lifted off the field while everyone else in the stadium was apparently watching Woody's tantrum. He asked me to slip it under my coat and carry it to the bus. In that atmosphere, with 100,000 potential assassins in the stands and a narrow tunnel to squeeze through to freedom, it was like Wile E. Coyote handing Road Runner a stick of dynamite. Too young and stupid to know I could die, and flattered that he'd asked, I did it.
Back in the bus, he and I pulled it apart - it was an "A" shape with two identical faces. I had to rat through several boxes in the basement to find what Mrs. Perils calls my "piece of the true cross", but find it I did, and it's pictured below, the relic of my final game in an OSU band uniform.