Our trip began with a shuttle pickup at 5 am Tuesday for a 7:50 flight to Palm Springs. I had been up pretty late the night before completing work that I should have had done (natch) the previous week. So, I'd had about 2 hours' sleep when the alarm went off.
Once in the air, I consulted my Palm Pilot and realized that I hadn't entered my car rental information. Since I'd made the reservation a couple weeks ago, and since I rent cars so frequently from several different companies, I had no idea whom I'd rented from. I had my laptop along, but it was no help because I have all my commercial mail go to my Yahoo mail address, which is not available offline.
When we landed in Palm Springs, I opened my laptop to search for free wifi. I got a signal, but they wanted $8 to connect, so I demurred. We walked to baggage claim, and the now-daunting row of car rental agencies stretched off into the distance. If I close my right eye and squint just right, my left eye becomes something like the Magic 8-Ball, with all its attendant reliability. With no other option, I rolled my head to the ceiling and awaited the pentagonal proclamation.
Unfortunately, my cranial typefonts have not enlarged themselves to compensate for my presbyopsy, and I squinted as the milky message morphed from "Dollar beers at the bar" to "Dollar Rent-A-Car." I was dubious, as I seldom rent from them, but, since they also had the shortest line, I headed to their kiosk. I fully expected to have to peregrinate from car company to car company armed with nothing but a cheesy smile and a nubile, scantily-clad credit card that begged to be abused, but this time I lucked out - my reservation popped right up at the Dollar window, and I had my keys well before our luggage arrived. I knew it all along.
(As with almost all of my photos, click to enlarge)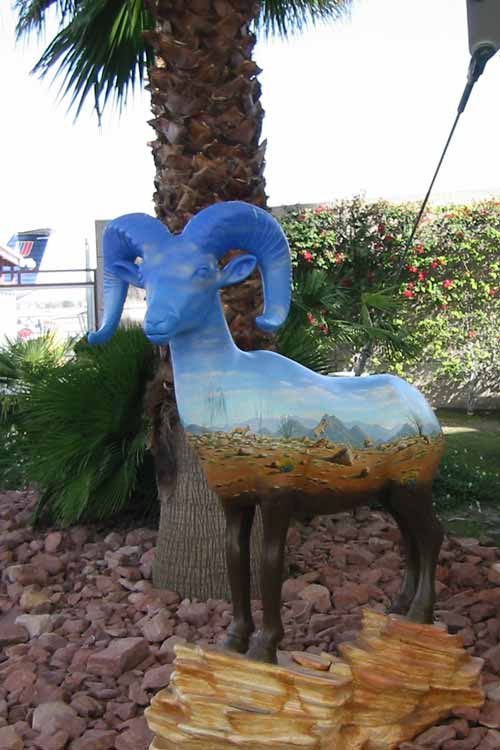 A lot of the terminal space at the Palm Springs airport is open-air, and if it's all you experience of the desert, there's enough kitsch around to placate you, not the least of which is this peyote-dream of a bighorn sheep.
Moving on - we drove around a bit in Palm Springs as I looked for a place to buy a spare CF memory card for my camera. I may die of thirst once we get to the park, but I won't run out of space to record the event. Driving out of Palm Springs, we encountered a surreal windmill forest populated by wind turbines of myriad heights and sizes, their blades rotating languidly.
Our route to the entrance to Joshua Tree National Park took us through hard-scrabble desert towns that brought to mind the kind of parish where Robert DeNiro ended up in the movie version of John Gregory Dunne's novel True Confessions after his ill-fated tilt at the corrupt nexus of religio-political power in film noir LA.
We had received some vague shopping instructions from our son, and stopped in at the grocery store in Yucca Valley that he had specified. Vague as his needs were, ours were pretty specific: 4 dinners, 5 lunches, 4 breakfasts. This task was complicated by the fact that we would have only the water that we carried in with us, and no refrigeration. And by the fact that Mrs. Perils seldom shops for more than one meal at a time, since we have the luxury of living within walking distance of our grocery store. For a while, these factors combined to flummox us, but we eventually filled a cart with a creditable camp larder, and headed into the park.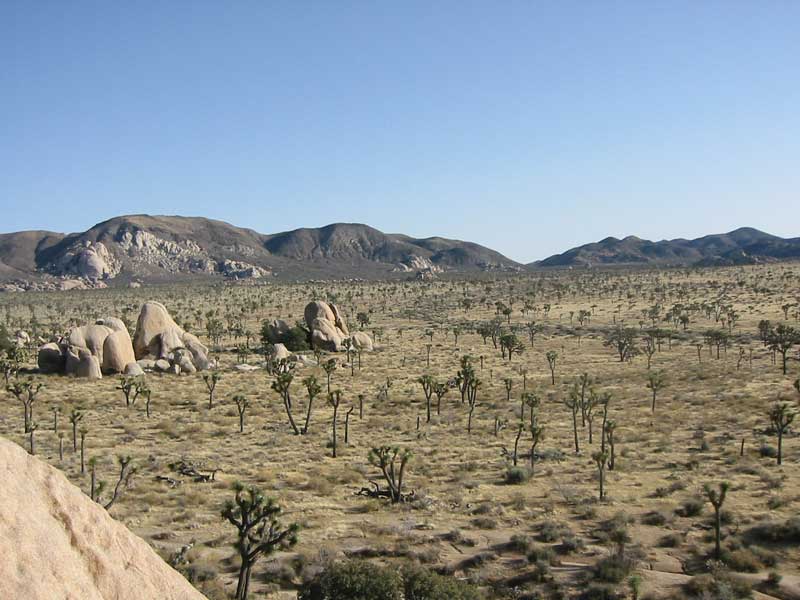 The landscape in the park is a bit reminiscent of what you'd expect of an African savannah (never been there, so it's idle speculation on my part). Carroll the Blogless, in a comment below, rightly described it as a Dr. Seuss-scape. The Joshua Trees and rock formations seem born of a fever dream.
We found our son's campsite, reunited with him, met some of his friends and went about setting up our campsite. As we were arranging our tent and acquainting ourselves with the essentials that we had - and hadn't - brought, I kept hearing what sounded like fiddle music of a sort some distance away. As it turned out, two of our son's campsite companions and climbing buddies were accomplished classical musicians, one a double-bass player studying at Boston University and the other a cellist studying at the Juilliard School in New York.
The "fiddle music" I had heard turned out to be the bass player practicing on a fascinating portable cello belonging to the cello player. This tableau added to the sense of a Seuss-scape, and I wouldn't have been surprised to see Horton's elephantine visage above the rocks.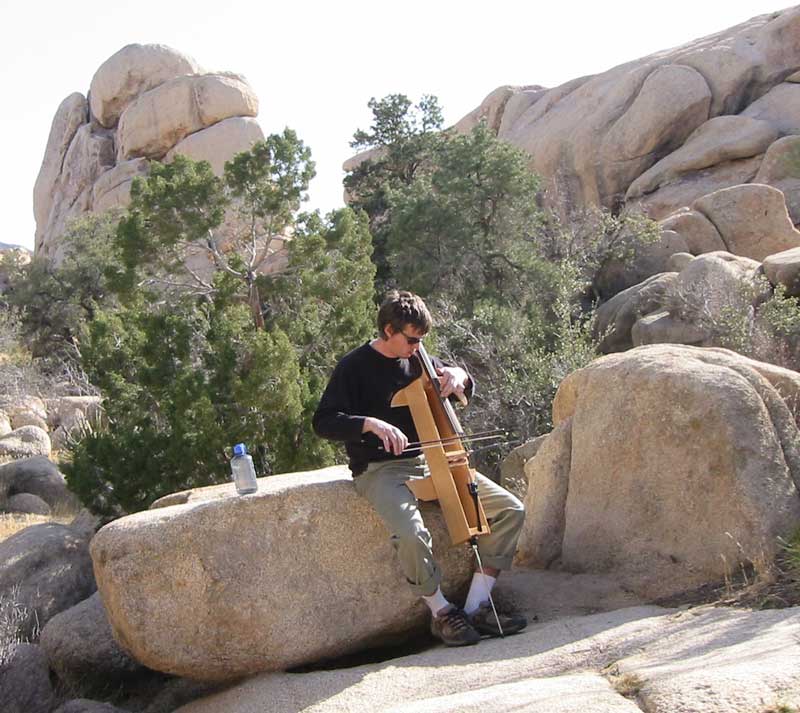 It was barely midday when we got our camp situated, and our son was keen to show us around and to get Mrs. Perils onto a climb. Accordingly, we hiked a half mile or so to a bolted climb called The Loose Lady. Perils Fils led, placing gear on the bolts for Mrs. Perils to follow. What the hell is he standing on here? Notice he's trailing the rope, and vulnerable to a fall back to the last point where he placed gear. He would tell you that he's safer on that piece of rock than I am climbing the stairs to bed, and on some nights I'm sure he's right.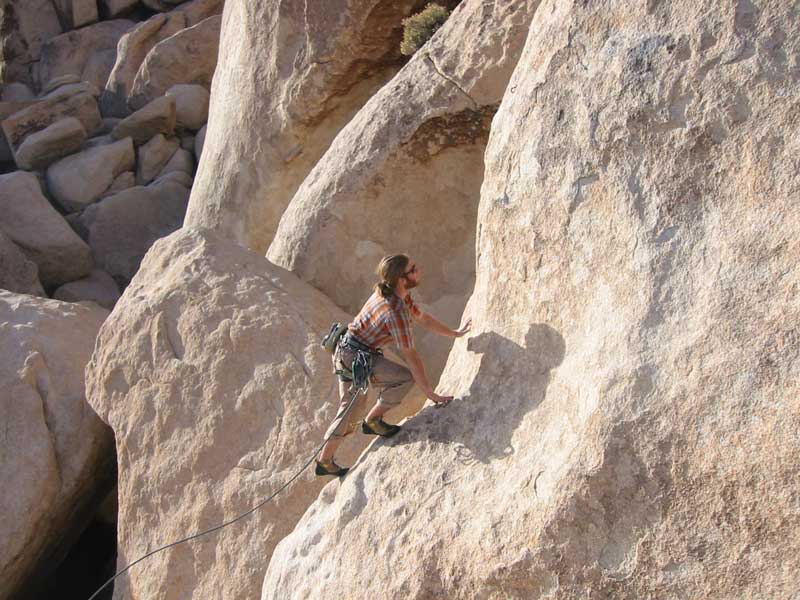 Mrs. Perils followed him into the cloudless blue ceiling as I photographed and soaked up the warmth of the sun and the rocks and stayed the hell out of the way.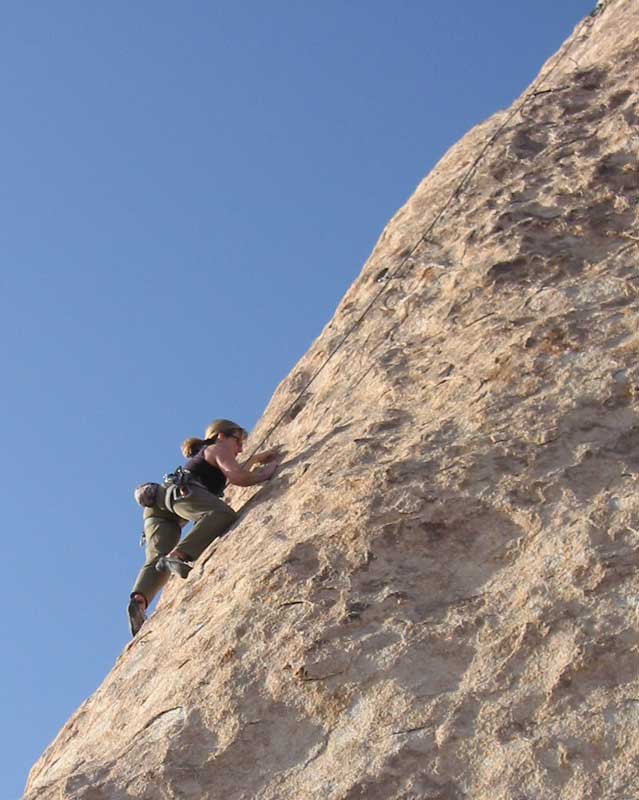 When Perils Fils (okay, that's the last time I'll do that) left Seattle for JTree in his VW Fox, he was ferrying two friends and all their gear, and reluctantly had to leave his guitar behind. We arranged our affairs so that we could bring it down as carry-on baggage, and he rewarded us throughout the trip with eclectic acoustic jazz riffs.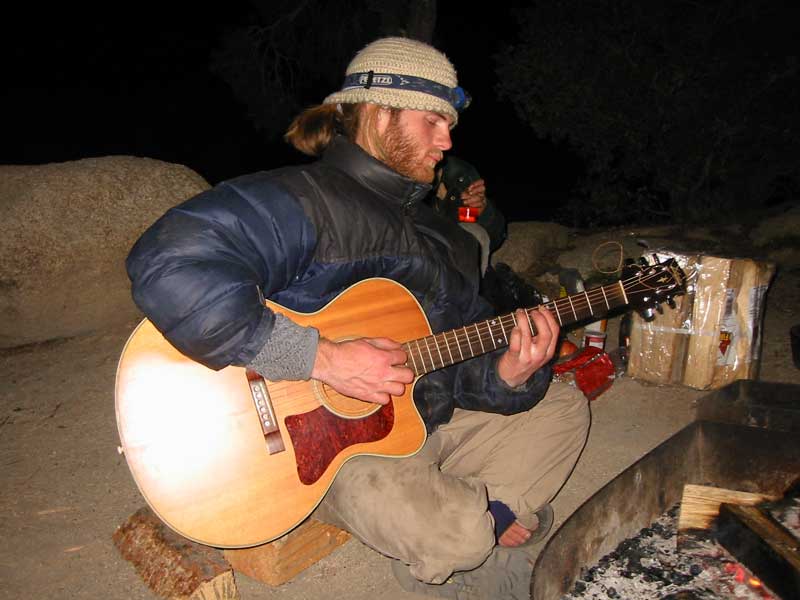 Hunger comes on as quickly as desert nightfall when you're camping, and our son, perhaps apprehending that we had no clue what shape dinner should take, chopped potatoes, onion, squash and prepared a delicious stir-fry dinner. Later, the moon, 3 days short of being full, rose over the rocks towering above our campsite and provided so much light you'd swear, once your eyes adjusted, that it was high noon.