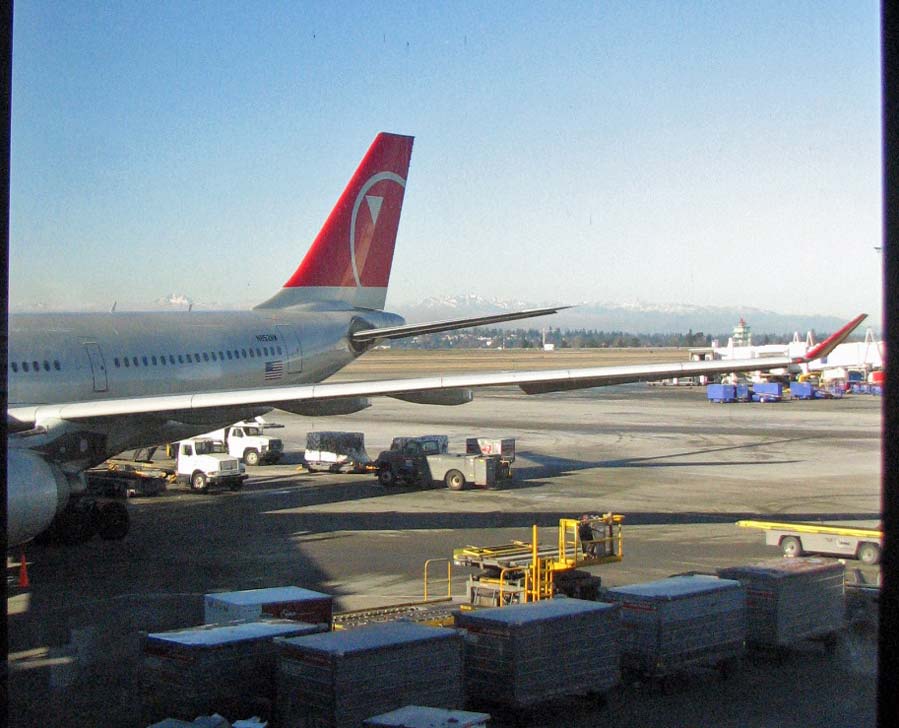 That's the view today from the Northwest Airlines Worldclub in Seattle - it's the Olympic Mountains behind an Airbus A330 bound for Incheon, Korea. I won't be on that plane - I'll be on a much more modest 757 headed for the balmy climes of Minneapolis (for a short layover), then Milwaukee. The temperature will be nudging 6F when I arrive.  I'll post more once I arrive and get my keyboard de-iced.
Update
Sitting now in the Minneapolis Worldclub, where the WiFi password is "COLD".  Go figure.
The red tail in the photo above is an endangered species, as Delta bought Northwest and is slowly repainting NWA's aircraft.  It's one more change that I'll have to accommodate, since I've spent so much of the last 10 years or so in and around NWA aircraft.  I'll have to countenance changes to my frequent flyer plan, even though my miles and status (Gold) will be merged into Delta's.  It's superfluous in the overall scheme of things, but when you travel a lot, you can limit the variables and uncertaincy by flying the same airlines, booking the same rental cars, etc.
Here are some images from the flight out of Seattle.  We've been experiencing a thermal inversion, so the air is clear once you're above the inversion layer: