Last night was a full moon here in Seattle, and a few of my kayak buddies and I thought it would be cool to observe it from our boats. In a major upset, the evening was almost crystal clear - temps in the 20s, but little to no wind. We launched near Gasworks Park on Lake Union and paddled towards the University of Washington.
As we turned into the Montlake Cut, the moon revealed itself gloriously, making a river of light on the water and a silhouette of the Montlake Bridge in the air (Click to enlarge):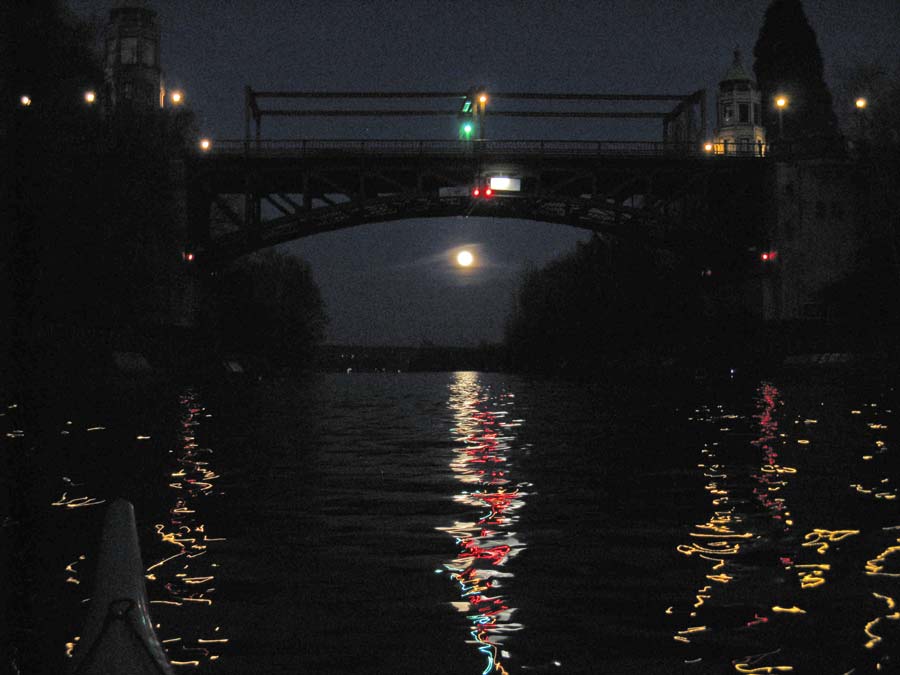 Usually the Cut - a short canal connecting Lake Union with Lake Washington - is rocking and rolling with motorboat wake, but last night it was our private reflecting pool.  We paddled through it and into a bayou-like area near the Arboretum.  There we consternated several herons, who squawked and took to ungainly flight, as well as several beaver, who slapped their tails on the surface of the water to show their displeasure.
We stayed pleasantly warm despite the water droplets from our paddles trying to freeze on our decks.  Visually, it could have been a balmy summer night.  GPS tale-o-the-tape here (which also includes the car trip down to the lake, due to user malfunction).