I'm still alive, and I'll leave it at that.  I'm done, for now, with what my in-laws used to call "The Organ Recital".  The previous post did elicit a call from my mom, who declared that she wanted to be the first (among her, me & my bros) to go.  I told her I wasn't about to race her.
The weather here has been, for the most part of the last month, idyllic, only rarely reaching up into the 80s, and when it does, tempered after a couple of days by refreshing marine push breezes.  I haven't done much to take advantage, as in epic kayak voyages or wandering into the woods.  We usually just hang out in Seattle for the 4th, declining to fight the crowds on the way to anywhere.  If work doesn't crash down on my head for some reason, I may try to do something with Thursday or Friday, especially since I'm off to Milwaukee next week.
I traveled to Eastern Washington last Thursday and Friday to do a software version upgrade to for a client in a town called Othello.  It's not the Washington most people think of over there - it's sagebrush desert, a sere landscape with fascinating landforms that, apparently were sculpted by a cataclysmic wall of water released Pacific-ward from a gargantuan ice-age lake in Montana.  If you have a claim on irrigation water, you can grow crops ranging from dry-land onions, potatoes, hops to apples, cherries and - gratefully - wine grapes.
Here are a couple of photos I took at the edge of town, looking westward over the Columbia valley towards the Cascade Mountains.  The tip of Mt. Rainier can be seen in the middle-left of each photo (click any photo to enlarge):
I've been puzzled, since I've been going to Othello, about whether there's an actual Shakespearean connection with the town's name.  I noted that there are street names like Hamlet, and Stratford-on-Avon.  Then I came upon this: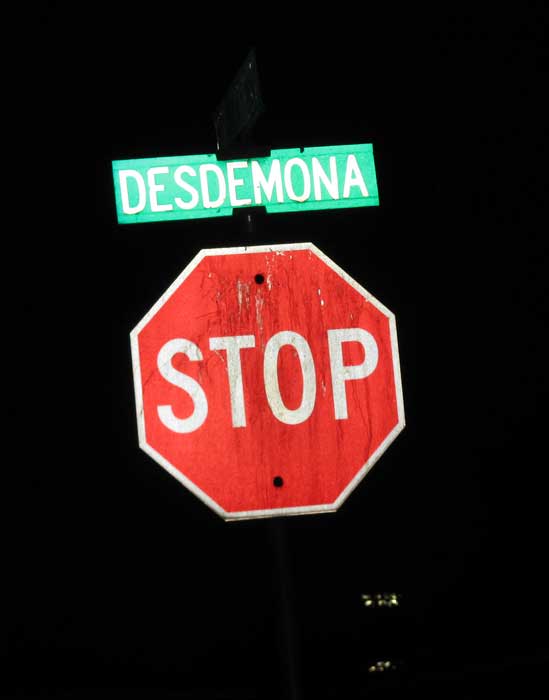 Interesting gambit, but somehow I don't think it helped her.
The work itself was sort of prosaic. There are always surprises in a software upgrade - forms (checks, invoices) suddenly start printing differently, unwanted new features supplant features the client loved in the old version. The big trick on this trip was installing a new server, plus the upgrade, in a remote satellite office down on the Snake River near Walla Walla. Since there's no way to fix anything at this location remotely, and it's a long drive there, we had to stick the job on the first try. I hear today that their payroll ran just fine, so there's a mercy.
I made my final "improvements" late Friday evening and started the 200 mile drive into a stunning sunset. Here's a series of photos I took through the windshield as I headed west on SR26.  I was texting with the other hand, driving with my knees: