Just returned Friday night from a week in frigid Milwaukee, where temps hovered in the single digits. I once again schlepped my trumpet along, but this time I added a bit of technology that I learned about a couple of weeks ago (click to engorge):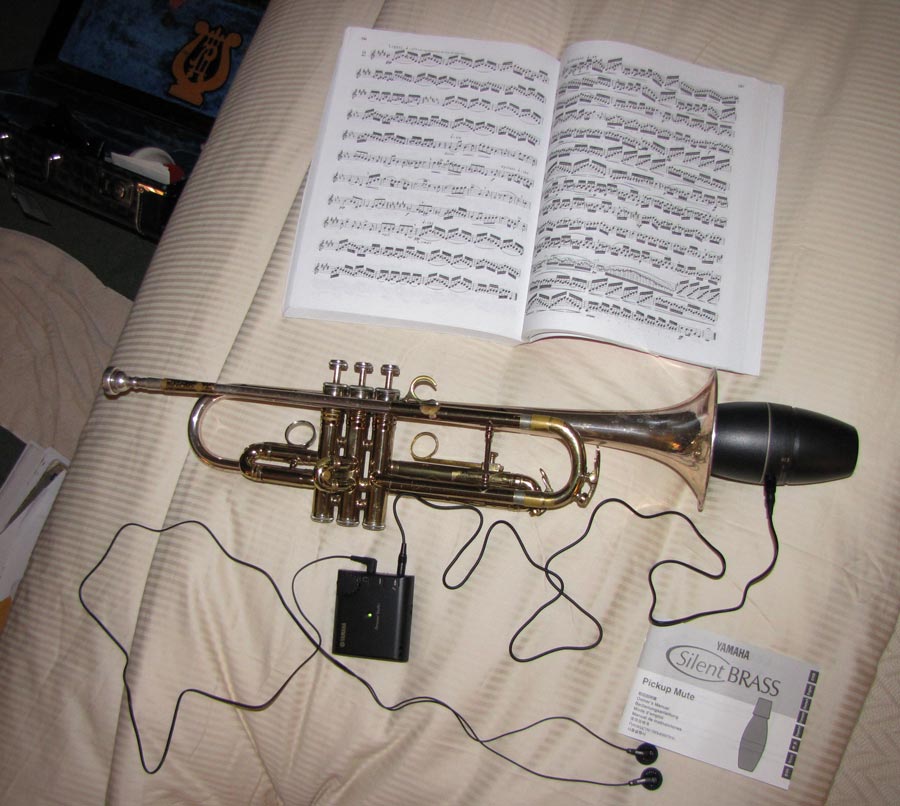 It's from Yamaha, called "Silent Brass". The black mute in the bell of the trumpet almost completely silences my playing, a mercy to anyone in adjoining rooms. A pickup wire from the mute runs through an amplification device, and I can hear myself as if I were playing with an open bell. I had to remove an earbud a couple of times to be sure I wasn't actually peeling the paint at full volume. Yamaha makes an assortment of these devices for various brass instruments, including tubas!
It's a good thing that I got to play during the week, because we got the music for our March concert over the past month, and it's pretty daunting. The theme of the concert is From Russia With Love. Yes, we're playing a Bond theme or two, but the meat of the concert is:
Mussorgsky's Pictures At An Exhibition
Tchaikovsky's 1812 Overture
Stravinsky's Danse Infernal and Finale from The Firebird
4th movement of Shostakovich's Fifth Symphony
Scheherazade - Rimsky-Korsakoff
There's a lot of trumpet-playing there, and a lot is at high volume. The 1812 and the Shostakovich are each close to 15 minutes long. Mrs. Perils says I should be doing push-ups with my lips. But then, she's been saying that for decades.
So one night we're about to rehearse Firebird, and I turn to the guy beside me, who's younger than I but past his 30s for sure, and ask him if he knew that Yes used to play a recording of the Firebird finale as a prelude to taking the stage. Well, he's heard of Yes, of course, and liked them, but had never seen them live as I had several times in the 70s. We're stopped for a bit before playing the last several ecstatic bars, and I tell him this is the point where Rick Wakeman swirls behind his bank of keyboard in his cape and blends in with the crescendo. Blank stare.
The Yamaha kit does one other cool thing - it lets you plug in an mp3 player and play along with music. I've obtained this recording by the US Army Field Band of the Shostakovich, and have been curious if it's the same arrangement we're playing. Last night, I wired up with my iPod, put my music on the stand and played along, including counting all the rests. This is indeed the same arrangement:
The trumpet part consists of two pages with enough rest bars that we should probably put in leave requests; the clarinets, on the other hand, have 8 pages.
Here's a video of the OSU Marching Band singing, playing and performing a drill to the 1812 (this is definitely not my band - it's the 21st century version). There are fireworks, of course, but the interesting thing here is the choral excellence, and the fact that, despite being strung across 90 yards, they're right on the beat:
When I was in the OSU band, we played a version of the Firebird finale.  If I can find it on my moldering vinyl collection, I'll rip it and post.