I see that May has gotten away from me, but here's a sorta-Memorial Day post anyway.  The last time I visited my mom, I was startled to run across this whilst rummaging in drawers and boxes looking for the gold ingots I know are around the house somewhere (click to enlarge):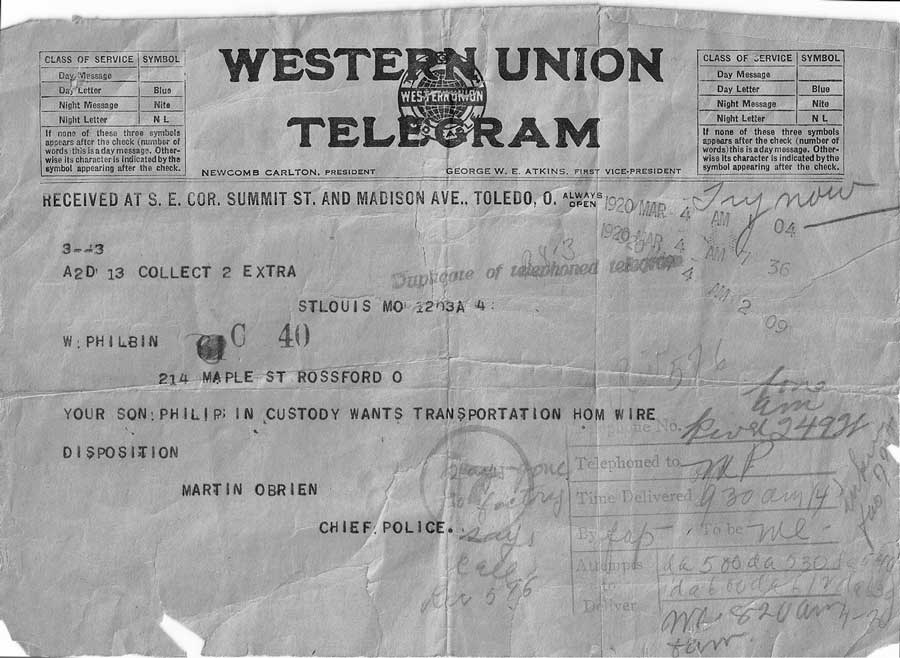 The "W PHILBIN" is my great-grandfather, and "PHILIP" is my grandfather. He would have been a little over 16 at this rendezvous with law enforcement.  This episode was never mentioned among the tales of hard work and Depression-era gypsy-wandering that my grandparents related.  The story was that, when he turned 13, my great-grandfather bought him a "suit of clothes" and turned him out of the house to fend for himself.  My great-grandparents were middle-class people, so that treatment seems to be more of a custom of the time than an economic necessity (although they had 7 kids). The presumption was that he found his way into the workforce and began building the stable life that I observed him living.
I know that my grandfather knocked around in the southwest sometime in the years before the Navy and meeting my grandmother in Waukegan, but I never knew what exactly he was doing.  Was this the end of that sojourn, a white flag of surrender, or was it another excursion entirely?  What did he do to attract the attention of the St. Louis police?  Was he incarcerated, or in protective custody?
Despite the best intentions of Memorial Day, people slip inexorably through our fingers, their essences yellowing and crumbling in the closets of our recollection.