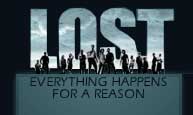 I woke up to this sight this morning at my Milwaukee hotel.  The one I checked out of because I have a flight to Seattle this evening: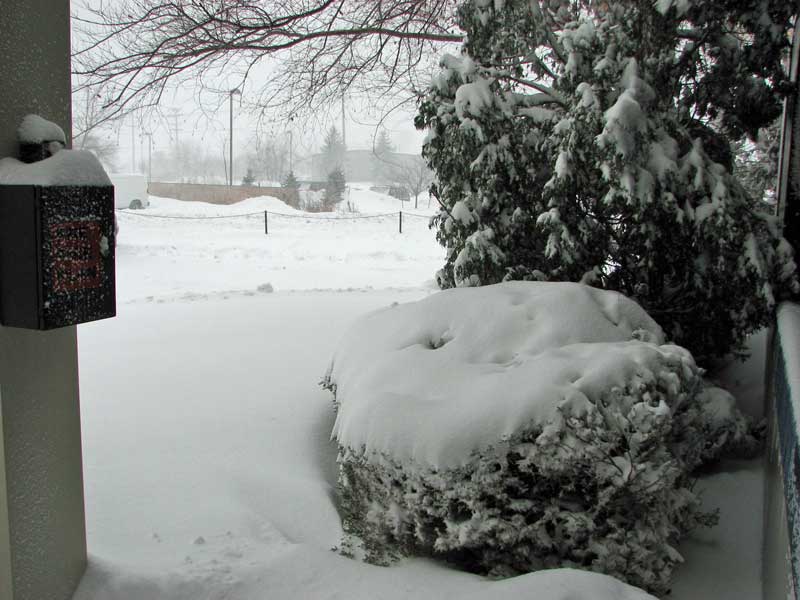 And the Milwaukee Journal-Sentinel had this cheery tidbit:
The sixth storm of this trying winter season proved today that the first five were mere practice. Nearly a foot of snow blown by wind gusts topping 30 mph stopped flights at Mitchell International Airport, stymied motorists and Milwaukee County Transit buses and shut down businesses and government operations.
And even if I get to depart MKE tonight, I'll be flying into this in Seattle:
The weather's just warming up for weekend blast

Forecasters say wind, heavy snow to hit again — hard

OK, now get ready for a real winter blast expected this weekend bringing much heavier snowfall with dangerous winds and possibly even freezing rain followed by the potential for avalanches in the mountains.

"It's going to be a real mess," said Brad Colman, director and chief meteorologist for the National Weather Service in Seattle. "It's a much more dangerous storm because of the wind element. … I think we will have power issues."
So, I'm biding my time here at my client's office, where hardly anyone showed up this morning, and those who did are mostly going from office to office describing their commutes.
As much as I've flown in the northern tier over the past 10 years, I've never been stranded anywhere, not even the week of 911.  But I think there's a high probability that I'll be bunking out either in Milwaukee or Minneapolis tonight.  Then who knows what will happen as everyone tries to reschedule into the teeth of the holiday travel season.  I think it might be wise to transfer some of my dainties from my checked luggage to my carry-on pack.
Update
I admit I spent way too much of my client's time this afternoon obsessively refreshing my NWA flight status screen, trying to determine how my fate thread was unraveling from the spindle of the confluence of airframe vs. atmospherics.  As the day evolved and the Milwaukee airport stayed closed, more and more of the scheduled flights started to post "Canceled" or "Delayed", but my 6:05 pm departure remained miraculously "On Time".  I presumed that this was simply because Northwest had not been able to think, and cancel, that far ahead yet.
Turns out that I was just lucky in my scheduling.  When I arrived at the airport, there were two classes of Northwest customers:  Those whose reservations were still "alive" - i.e. not canceled, and whose connections had not been mangled,  and those who were fucked and not likely to get un-fucked real soon.
This photo shows (not really starkly) how this divide worked down in the Black Hole of NWA Calcutta: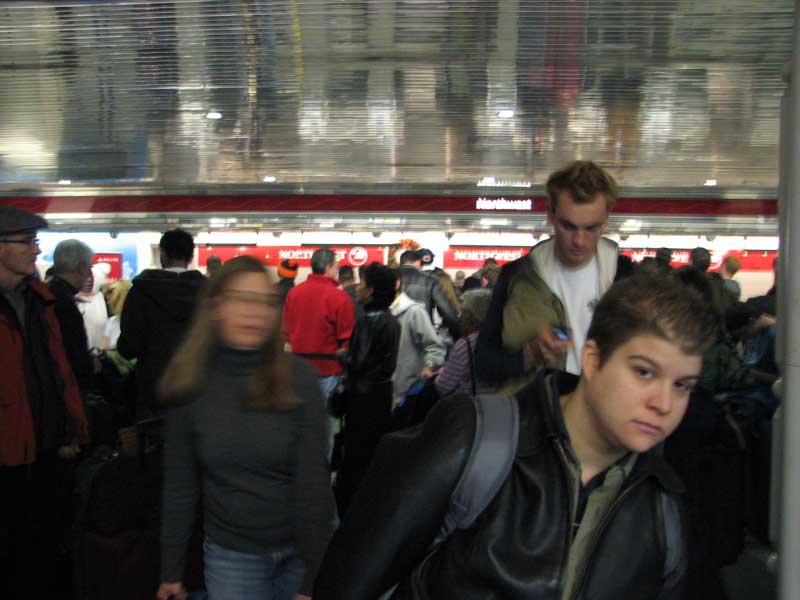 Those directly behind me were in a short line to check bags for flights that were still on schedule; those to the rear were the tip of a line that snaked around the cramped ticketing area, waiting for agents to patch their lives back together.  As I checked my bags, I felt like a resident of a miraculously intact building in a city that had been carpet-bombed.
After I checked in, I discovered that I could catch a seat on an even earlier Minneapolis flight and, reader, I grabbed it as if it was the landing strut of the last helicopter leaving Saigon.  Under those circumstances, when you see an actual plane actually loading actual passengers, you can't turn it down.
And, yes, just to prove that injustice can still be propagated in these post-bailout times, I was upgraded on both legs.  Boo-Yeah!