Ducking in here to see if any pipes have burst during this cold wave.  Since the door was frozen shut, I'm thinking the property manager has neglected it (as have I).
I just looked up my last post.  I'd completely forgotten what I wrote about last.  In retrospect, it looks like my Macbook battery died and never recovered.  Well, it's still sick, but I've been mostly plugged in, so it's on life support.  Federal death panels may soon intervene, as I'm traveling again Friday.
We had a nice, relaxing time in South Carolina, aided greatly by the Buckeyes'  continued dominance over Michigan.  It's been so long since they've beaten us that I wonder if we should invite counselors to the oyster roast in mufti, to cosset us in the event that we ever lose to them again.
The weather was cool, but mostly sunny.  On Friday, we embarked on a cruise out to Fort Sumter, where the Civil War began when the Union garrison there was forced to surrender it.  It seems the fort's significance was more symbolic than strategic, though it did help guard the mouth of Charleston harbor.  It seems to have spent most of its existence as rubble.  What you see in the pics below is brickwork in interesting patterns, mostly the result of a rebuild after the Civil War (click to enlarge):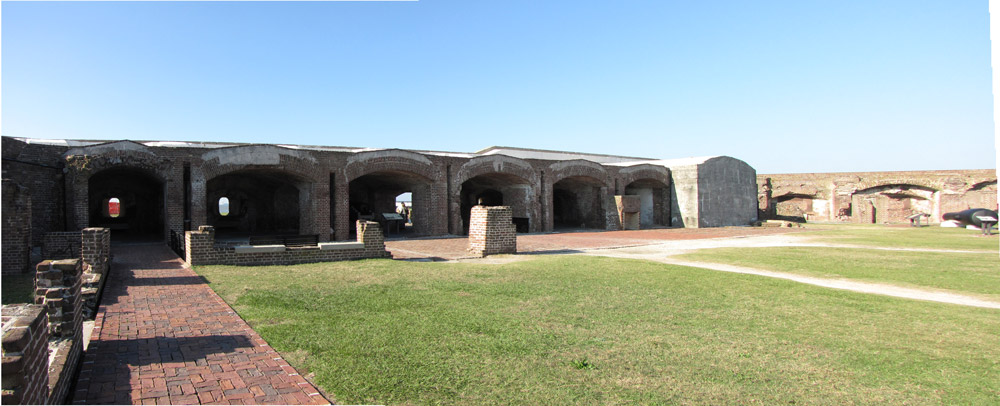 On Saturday, the game was watched, some fish were caught in my brother's pond, and oysters were finally roasted.  Another pleasant November weekend in the Low Country.