We've been making this trip to Ashland annually since 1994, when a group from our son's school started coming down, and we tagged along as fellow-travelers. Those early trips involved a driving day (it's 8 hours down I-5 if you're willing to dine on granola bars and accept catheterization), 3 days of 2 plays each, and another driving day back. After the first year, that itinerary began to seem far too rushed, as we started finding other things we liked to do here, including some incredibly nice hikes, and we started adding days to the trip in order to accommodate them.
We also started flying down instead of driving. I love getting on these Horizon commuter planes, cuz they're almost always taking me someplace fun here in the Northwest.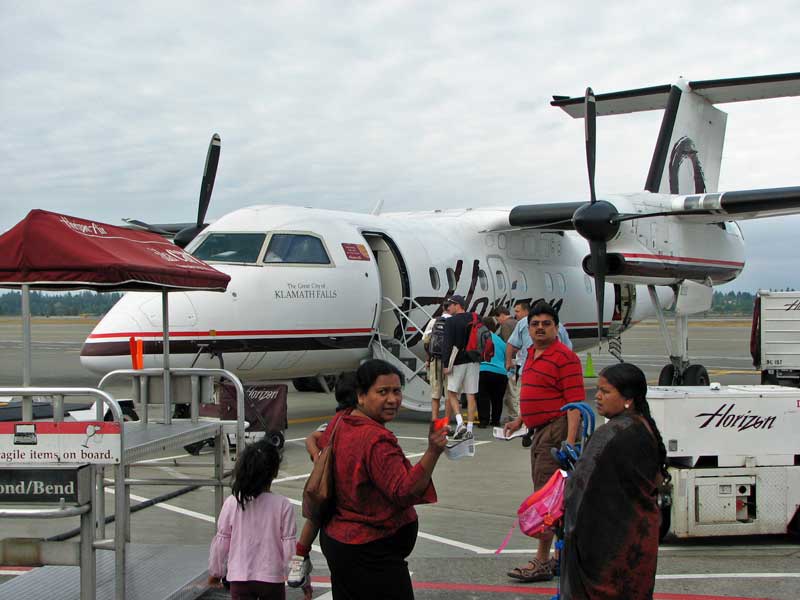 The festival runs from February to November in three theatres. Throughout this season, they will produce 11 different plays, although not all run concurrently. We've been buying a membership in the Festival for a number of years, and that allows you to participate in a member's ticket presale in November. Consequently, our seats just rock. We were in the 4th row for the Cherry Orchard yesterday, and that's the farthest away we'll be from the stage - the rest are 1st or 2nd row. Here's the rest of our schedule:
Gem of the Ocean - August Wilson - Tuesday night
As You Like It - Wednesday afternoon
Distracted - Lisa Loomer - Wednesday evening
The Tempest - Thursday evening
Taming of the Shrew - Friday evening
On the Razzle - Tom Stoppard - Saturday evening
I probably need a little more time to seriously reflect on the two we saw yesterday (there are no plays on Mondays here). In The Cherry Orchard, an old life is coming to an end as a family estate that has served as a touchstone for characters from various social and economic strata is falling into receivership and being sold. If you have some background on Chekhov's life and times, the specific archetypes of his Russian society will reveal themselves; if you don't, it's still a gentle, but focused, discourse on impermanence.
Tracy's Tiger was adapted by several OSF people from a novella of William Saroyan's. It revolves around a young man who blows his chances with a girl with whom he's besotted, and spins into dissolution. En route, he encounters various other people who seem to have had one main chance in life followed by decades-long denouement, and he despairs of getting another chance with his squeeze. He is accompanied by a familiar whom he characterizes as a tiger (though he's played by a human actor), that acts as his muse and scourge. His paramour also has a familiar, and the romantic byplay between the two familiars seems to have more spark and sexual potential than the 3-dimensional characters'.
Anyway, it's presented as a musical, which is problematic to me, as I've said before. Some things fold neatly into musical rendition, and others seem tediously belabored, as when a 5-minute song delivers a sentence of plot. I probably need to see more musicals. I did enjoy this production, though. For one thing, it was a revelation to see actors whom I've watched for years in spoken roles suddenly burst into unlooked-for singing voices.
Another interesting aspect of the Tracy's Tiger production was that one actor, who had a fairly significant role, could not perform at the last minute, and his understudy had to be located and reeled in. The understudies wear pagers on the days when they may be needed, but they may be immersed in some domestic travail when the call comes. On a backstage tour last year, a long-time actor related how he'd been running a roto-tiller when his pager went off. Last night, the understudy carried notes on the stage (which is expected), but didn't seem to need them much except, interestingly, when singing.
Because of its length and robust funding, the Festival provides almost a full year's work for its actors and, although contracts are only proffered for a year at a time, many of them have had long runs, and it's fascinating to see them morph from one role to another, often on the same day. We also see them wandering around town doing the same stuff that any other small-town resident does in his off-hours: shopping, eating in restaurants, buying pre-performance coffee at Starbuck's - but for us, with our familiarity with them, it's so much like seeing rock stars on the street. Yesterday, one of Mrs. Perils' heart-throb actors was in the check-out line of a grocery store. Mrs. Perils said something to indicate that she thought we were finished shopping. I reminded her that we still needed to buy wine, and was entrusted with that task by myself while she helpfully obtained a place in line.
We pushed our visit back a couple of weeks this year from our usual time so that we could secure a cottage that we really like. It's only a couple of blocks from the theatres, and it's nestled down by a lovely, cool creek. That's my mom standing at the rail, whom we've been bringing along with us the past few years: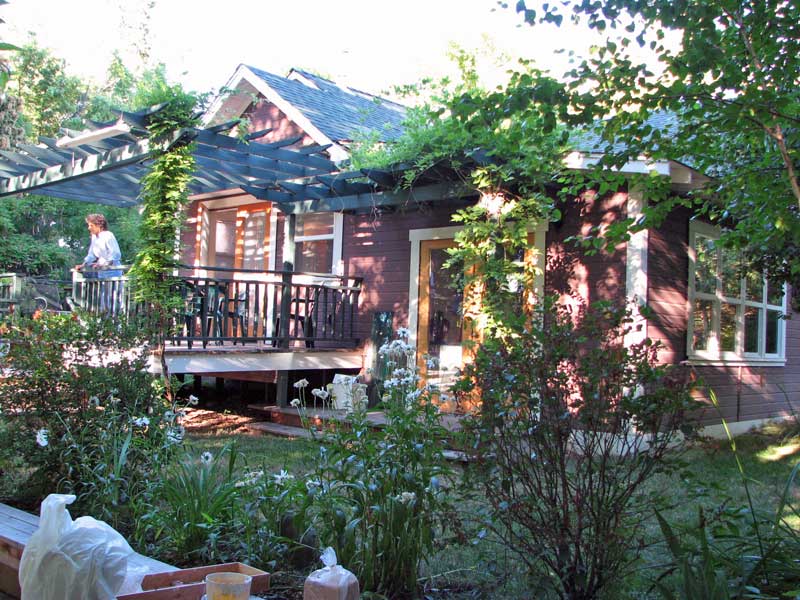 It's next door to, and shares a deck with, a pottery/sculpture studio of some kind, and there are finished and in-process works strewn around the walkways.
OK, we're going off into the woods for a hike. More photos and such later.